SCROLL DOWN AND PAUSE THE SHOWSTUDIO VIDEO BEFORE CONTINUING
Hellooo,
I cannot believe it is still snowing. Incroyable.
Sooooo it's still fashion month, and everyone is in Milan. I didn't get to say anything about the S/S 2010 collections, and its still a little early for digestion of F/W 2010, but I just wanted to share a year's worth of inspiration from one brand, RODARTE.
The line is made by two sisters, Kate and Laura Mulleavy, in Pasadena, CA. I think that their intentions in creating each line are noble, based in a desire to create beautiful things with artistic influence, and they do it because they love it, not ONLY because it is profitable. So far. Ha.
A nice, concise bio from nymag.com:
Sisters Kate and Laura Mulleavy came from Pasadena, California, to New York in the spring of 2005 with nothing more than a few dresses and coats stuffed in their suitcase. A week after arriving, they had shown their collection, tagged Rodarte after their mother's maiden name, to almost every major fashion editor and upscale retail buyer. What got them through the door? Tenacity and talent. The Mulleavys labor over every detail of their meticulous, romantic dresses. They pile on soft flutters of pinked chiffon and intricate hand-stitching as well as other old-world techniques that call to mind couture. Still a relatively new label, Rodarte has scored the Mulleavys the 2008 CFDA Swarovski Emerging Womenswear Designer award, the 2008 Swiss Textiles Award, and quite an industry following, including Old Guard lions like Karl Lagerfeld and Christian Louboutin.
The Metropolitan Museum of Art's former fashion blog "blog.mode", had
this article
about them in 2008. In the interview discussed in that article, they state that they "
frequently translate vivid natural landscapes into our designs
". Their
official website
has a couple of little areas where they share pictures from trips they've gone on that inspired collections.
I'm not much for writing runway reviews, they're mainly a bunch of post-rationalization and just make the entire thing crashingly corny and trivial-sounding. However, I'm a big SHOWSTUDIO fan and can stomach their reviews, so the two runway reviews that are sampled in this post are courtesy of showstudio.com.
I wanted to draw EXTRA special attention to the shoes, whose design they always outsource to Nicolas Kirkwood, who is truly, truly an artist.
RODARTE SPRING / SUMMER 2010
SHOWSTUDIO coverage
Excerpt:
For spring, an earthy and tribal, though thoroughly otherworldly, theme took hold. The show opened, black grit underfoot and poisonous yellow lights overhead, with dry ice pouring down onto the catwalk enveloping the warehouse space. Bedraggled models with severe make-up and clumped hair emerged from the ether to a dark, distorted soundtrack, wearing garments constructed through complex looping, draping, knotting and plaiting. As though stepping to the catwalk from some ancient Scottish moor, the models appeared at once menacing and awe-inspiring, draped in earth-toned ensembles featuring shots of fluorescent yellow and unusual tie-dying and dip-dying techniques.
*Just to throw props out where they are due: Rodarte's fabric dying and treatments are done by Edwina Pellikka, of LA's
A Dyeing Art
, whose
website
is almost comically modest and plain given the caliber of her work and clientele.
the shoes:
All shoe photos courtesy of Tommy Ton, Jak & Jil
RODARTE FALL / WINTER 2010
SHOWSTUDIO coverage
Excerpt:
For Autumn/Winter 2010, the spark for the Rodarte sisters were the murder of maquiladora workers whilst walking to the factories at night in the bordertown of Juarez, Texas - informing and inflaming their creative fire to concoct a melancholy, haunted story of sleepwalkers dressed in ethereal mixes of colour and texture, shovelled haphazardly onto the body in the dead of night. Dressing in the dark is seldom inspiration behind a fashion collection (at least, one that isn't admitted), but the Rodarte sisters are no ordinary fashion designers. They approach their work more as art than fashion - handcrafting garments that evolve slowly from season to season, collaging fabric into a form of fashion-sculpture.
Video courtesy of SHOWSTUDIO.com
the shoes:
Shoe photos courtesy of Tommy Ton, Jak & Jil
just for shits and giggles, peep Michelle Obama rocking Rodarte: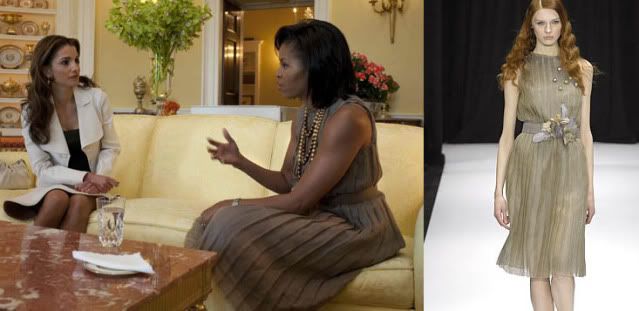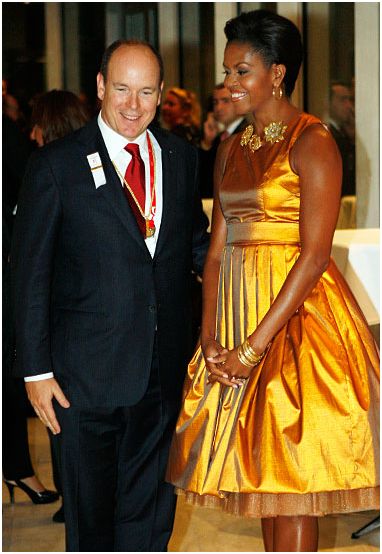 Props.
b.g.